This diagram, developed by National Grid, compares the different qualifications available and the educational and career pathways you can take. It's a great way to narrow down the field and find out what interests you the most.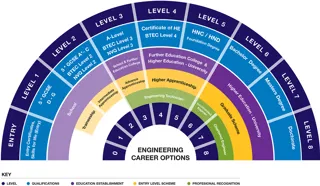 You can also download a PDF copy of the diagram below.
Engineering career options - National Grid [PDF, 108KB]
Take the right career advice from a range of premium resources
If you're interested in going down the apprenticeships route, find out what they actually entail, where to look for schemes and how to apply.
The Electrical Careers website is the perfect resource for anyone considering a career in electrical design, installation or engineering.
Tomorrow's Engineers is a one stop shop for all careers that fall within the scope of engineering.
Access thousands of resources, take part in CPD activities and participate in online groups with STEM Learning.
Our careers information will help guide you in the right direction, where ever that may be.
Clear on the path you'd like to take? It's time to figure out where to start.