Start of main content
Thinking about studying abroad? Marnie McKay shares her experience of studying in Singapore
Published: Fri 12 Aug 2022
Marnie attended one of the world's top universities, Nanyang Technological University (NTU), where she completed her 4th year of her degree in Electrical and Mechanical Engineering.
With support from the IET, Marnie met friends from around the world, studied on the beach and travelled Asia during her semesters. So, if you are tempted by a year abroad but still sitting on the fence, Marnie gives an insight into her highs and lows of studying abroad.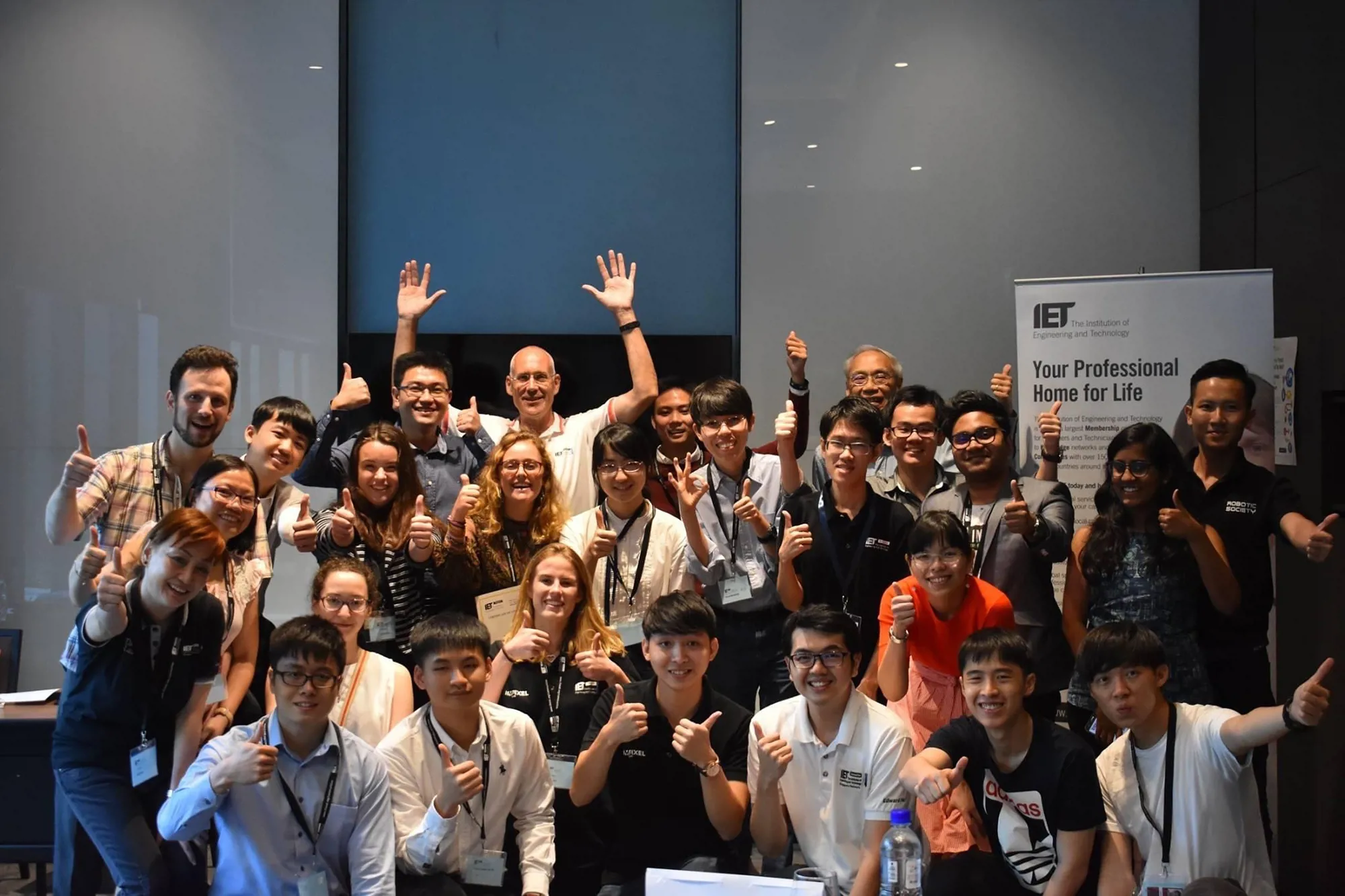 First and foremost, why did you decide to do a year abroad?
My university offered a course of Electrical and Mechanical Engineering with international study, so when I was first deciding which course to apply for at school I decided to go for it and apply for the course which involved the year abroad.
I was inspired by students at the time who shared their experiences and also by university staff who explained how global engineering is.
Moving abroad is a huge step – did you feel nervous?
Yes! I am very much a 'home bird' as some may say, so it took a lot of courage to go. On the other hand, I was also really excited to go and experience a different culture, so I knew I just had to go for it.
How did it compare to studying in the UK?
I had a mix of tutorials and lectures, and really enjoyed making friends from all over the world and being able to study with them, but I will never get over being able to study on the beach in Singapore! Not something you get to do everyday back in the UK.
There were also so many interesting classes to choose from, such as business innovations in engineering and non-destructive testing, as well as Chinese classes, which was brilliant to learn.
Do you feel you have benefitted from studying abroad, both professionally and personally?
Yes – it has really opened my eyes to global collaboration in engineering and I have had the chance to meet so many people from across the world. I believe I have become a better person and better engineering – it was a truly invaluable experience. I make sure I take any opportunity to travel now with work and I have learned to value the difference when working with people from across the globe.
The experience on offer to me during my year abroad were incredible, and I completely relished them all! It has also ignited a passion in me to innovate through engineering. Singapore is so futuristic and inspiring!
How did the IET support you studying abroad?
Firstly, I was a Diamond Jubilee Scholar and IET Power Academy Scholar at university which really helped me financially to study abroad.
I was then introduced to the IET Singapore network where I attended many events and met wonderful friends who shared our IET experiences. I also went to the University of Southampton's Malaysian campus to visit their IET On Campus group.
Since coming back to the UK, I have presented for IET groups about my experiences from my year abroad and encouraged other students to apply for one!
Being so far from home, did you have any low points? And how did you overcome these?
I definitely missed my friends and family when I was studying abroad but technology is so advanced now that a FaceTime call felt like they were there with me. I made sure I sent them all postcards throughout the year and on my birthday I would receive lots of lovely cards from back home which would make me feel at home.
Do you have any highlights from your year?
I have too many to name them all! I spent my 21st birthday on a three day camp from the Mechanical and Aerospace Engineering Club's annual team building event. It was brilliant and I made friends for life.
I did my dissertation in Singapore and was lucky enough to do this on Wireless Communications, meaning I got to spend time at Rolls Royce's research labs which were on campus. It was very interesting, hands on and innovative – I really enjoyed it.
I also had the opportunity to go to Wuhan in China for the IET's Renewable Energy annual conference. Attending a global conference and meeting experts in the field was an amazing experience.
Apart from studying, what else did you enjoy?
Being in different country allows you the opportunity to really immerse yourself and make the most of the opportunity.
In between semesters I travelled around Asia, which was out of this world! I even climbed a volcano with my friends at 4am to see the sunrise. Being able to see different cultures, exploring different parts of the world was a real bonus for studying abroad.
I also joined many clubs and societies – one being a dance club where I won a beginner's cha cha competition! I was part of the Mechanical and Aerospace Society's committee, and I helped organise their graduation ball. This was really special for myself and my Singaporean friends who were graduates too.
What do you wish you knew before studying abroad?
I wish I had known how valuable the connections I made with people would become later down the line. In the world of engineering it's fantastic to have contacts across the globe, so make sure you network and keep in touch!
I also had a UK summer placement lined up, but I wish I had known about others who had arranged work experience for either before or after their year abroad. Instead I arranged to go to conferences and events which is also good, but I wish I had spent more time before my year abroad planning for even more opportunities.
Finally, I wish I had documented my year abroad better for future students such as producing a help guide!
What tips would you give to people who are thinking about doing a year abroad?
Talk to other students who have studied abroad to hear about their experience and gain insight into different universities and countries before making your decision.

I watched YouTube videos that students had made at university to get an idea of what the campus would be like and for their top tips.

Look for blogs – I made a blog website for everyone I knew back home to follow. It even ended up inspiring some others to do a year abroad in Singapore too!

Finally, if you do decide to go, make the most of it whilst you are there! It was one of the best years of my life, and I am so glad I made the most of such a special opportunity.

Join our IET Student member LinkedIn group to collaborate with your global network of engineering and technology students.

<!—Lead forensics script -->