Start of main content
Incorporated Engineer takes on incredible electrical role
David achieved Incorporated Engineer (IEng) with the IET in March; he counts it as an important step in getting him where he is today and closer to where he'd like to be in future.  
Starting out as an Electrical Apprentice at Forth Electrical Services, Stirling, David was noticed for his potential. His employer offered him a role as an Electrical Design Engineer, which involved studying for a BEng in Electrical Engineering at Glasgow Caledonian University.
Moving to this position got David thinking about his career goals.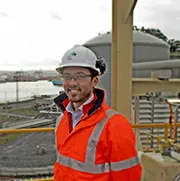 "When I started in the office, getting Chartered became part of my plan," he says. "I finished my degree and decided to apply for IEng, then for a promotion to Senior Engineer. I thought IEng would benefit me when asking to go Senior – and it did."
Now as a Senior Electrical Engineer at WorleyParsons, David works on designs of electrical aspects of a build. In 2015, he began working on a project for a new refrigeration plant at BP's Grangemouth site – known as the Kinneil Liquid Petroleum Gas (KLPG) Chilldown Project.
The plant refrigerates Liquid Petroleum Gas to enable storage and transportation by ship to market. Due to EU legislation which banned the refrigerant R22 in 2015, BP wanted a new plant that uses a more environmentally-friendly and efficient refrigerant.
"BP Kinneil is vital to maintain the UK's energy supply," David explains. "The facility transports around 50% of UK oil production and 25% of UK gas production."
Putting engineering knowledge and skills into practice
On a personal level, the Kinneil project has been exciting for David as it's given him plenty of opportunities to use the skills and knowledge that make him an Incorporated Engineer.
"There was everything electrically you can imagine on this job – – Switchgear, Transformers, HV Motors, LV Motors, Earthing, Protection, Lighting, Small Power, Containment and Trace Heating," he says.
One aspect of the project is a new HV/LV substation package - David was appointed Site Package Manager for this. As he explains, this role requires an even greater skill set: "I'm the single point of contact for the Vendor and I co-ordinate everything internally from meetings to the budget.
 "I've been on the site for a year now, dealing with Electricians, Supervisors, Project Managers, the Client and Vendors. Being in the midst of it, adapting to who I'm speaking to and building relationships is important."
Becoming a better engineer
David is aware that he has to invest in his professional development to uphold IEng and go on to achieve CEng.
As well as studying for a part-time Masters in Electrical Power Distribution at Newcastle University, he makes time for IET events, E+T magazine and volunteering.
"I'm the Chair of our offices' Early Career Development Forum, which organises STEM events in schools and universities," David says.  "We also run the office work experience programme, supporting any students coming in."
Achieving IEng
Though the bar is set high for engineers wanting to become registered, David indicates that are resources out there to support applicants.

"I put the application off for a bit because it seemed like it would take a lot of time, but it wasn't actually that bad," he says. "I'd suggest as soon as you start thinking about IEng, get into a routine of logging information on Career Manager, so you have everything there when you're ready to apply."

He adds: "I also met a Professional Registration Advisor and we talked through the application. She really helped make sure I had all the right information – that was the best thing I did."

If you're thinking of becoming professionally registered – now or in the future – send us your 'intent to register' via Career Manager.

<!—Lead forensics script -->