Start of main content
Phillipa Rodney
Published: Fri 7 May 2021
Phillipa Rodney is an Engineering Manager at insurtech company Zego, where she works closely with engineers, product managers and engineering managers whilst leading the business' platform teams.
Her role has three pillars: people development, hiring and delivery leadership
She is involved in everything from building a hiring strategy designed to attract the best candidates and establishing a collaborative, inclusive culture, through to building autonomous teams and identifying the coaching and mentoring needs of the engineers and supporting their growth.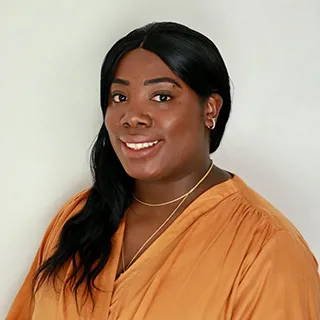 "I feel strongly about personal and professional development and want to help my engineers along their career journeys, so you'll always find me getting involved in all sorts of engineering initiatives," she says.
"Diversity and inclusion are also very important to me, so currently I'm working with my peers and talent team to look at how we can make our hiring process more inclusive," she adds.
Discovering engineering
Phillipa always enjoyed STEM subjects at school, but her engineering career came about thanks to an epiphany in music class.
"I was always good at STEM and had assumed I'd go on to study physics and maths at university – at school I didn't really know what engineering was.
Then, one day in my music class my keyboard wasn't working and I thought hey I'm techy, let's see if I can fix this.
I took it apart and when I held the PCB board in my hand suddenly thought: is there a degree where I can learn to make these? I did some research and discovered the world of engineering!"
Phillipa went on to do a master's degree in electrical and electronic engineering, before starting her career as a software engineer for the Ministry of Defence and then moving to BAE Systems Applied Intelligence. 
She's held various positions, including Software Engineer, Data Scientist, Export Controller and Software Delivery Manager.
Phillipa's CEng journey
Phillipa joined the IET as a student and has stayed as a member ever since.
"I understood the benefits of membership, plus it's a part of who I am now," she explains.
She first became aware of Professional Registration during her time at university, and being a goal-driven person, decided then and there that she would aim for Chartered Engineer (CEng) status.
"There was no hesitation or second thought, I knew I'd make it happen," she says.
Unsure if you're ready to apply?
Moving forward to 2020, and having gained several years of knowledge and experience, Phillipa went out and found herself a Professional Registration Advisor (PRA), Dr Mikela Chatzimichailidou, who'd recently achieved Chartered status herself.
She was also contacted by the IET's Registration Engagement Manager (REM) Lucy Byrne, and together they helped show Phillipa she was ready to apply.
"They gave me the confidence to apply, I really didn't think I was ready," says Phillipa.
"Without them, I would have probably waited years before sending in my application, so they really kickstarted my CEng journey.
"Lucy was there to answer my questions and signpost me in the right direction wherever needed, and they both made the process a lot friendlier.
Most of all they helped me with the application process by getting me to really think about all the things I've done and matching them with the CEng competencies.
"The experience I chose to demonstrate that I had the understanding required for CEng registration included my involvement with leadership and stakeholders, managing hiring and engineering teams, and running a department-wide digital transformation project.
You don't realise how much you've done until you write it down – it's a really good exercise to help you reflect on your achievements.
I was a million percent more confident about applying thanks to their support!"
Make the most of your PRA
"I really can't overstate how important the role of a PRA is," Phillipa continues, "and I urge people to make the most of them.
You might feel bad about asking them loads of questions and taking up their time as they're volunteers, but they signed up to do just that and they're passionate about helping people.
"They're basically your cheerleader throughout the whole process, they're there to help you succeed.
They've been where you are, so are the best people to speak to. So, be honest with them and ask as many questions as you need."
Inspiring others to follow in her footsteps
In her own words, Phillipa "lives and breathes mentoring", and has been helping inspire others into engineering for as long as she can remember.

She regularly goes into schools, and volunteers with various organisations including Stemettes, Revive, Reed Technology and Inclusive Careers to mentor and coach others within the engineering and technology sector.

As soon as she achieved CEng status, she began looking at how she could encourage others at her company to become Professionally Registered, as well as becoming a volunteer PRA herself.

"The feedback I've had since becoming CEng has boosted my confidence further and I feel like I'm making even more of an impact," she says.

"I'm getting asked lots of questions about my Professional Registration journey, both from colleagues at work and peers on LinkedIn, and so I'm trying to bring them along on that journey.

I feel like my story is inspiring others and so I'm doing my bit to increase awareness of Professional Registration to give others the confidence to apply.

Personally, Phillipa's now focusing on gaining more experience managing bigger engineering teams and would like to take on a senior leadership role.

She's also started looking at the possibility of becoming a Chartered Manager (CMgr) in addition to a Chartered Engineer, and hopes one day to become a Fellow of the IET.

"I want to help others to challenge themselves, so I'm going to do that myself," she says.

"I plan to keep helping others believe in themselves and have confidence in their abilities. I just love helping others become the best version of themselves."

<!—Lead forensics script -->