Start of main content
Dr Mikela Chatzimichailidou CEng
Published: Thu 22 Oct 2020
From academic to industry engineer: a CEng journey
Supported by the IET's Registration Engagement Manager, she's continuing her Professional Development journey, and hopes to inspire other academics and professionals with versatile experience to apply for Professional Registration.
As R&D Functional Lead at WSP, Dr Mikela Chatzimichailidou's work is multifaceted. She's a team leader, a liaison between industry and academia, a researcher, author and practising engineer.
"A lot of what I do involves working with other people," she explains. "I'm mentoring my team of five, while also supervising master's' students that want to get a taste of how the industry works or colleagues that want to get further education in academia. On top of that I'm writing papers with colleagues and the universities I'm affiliated with.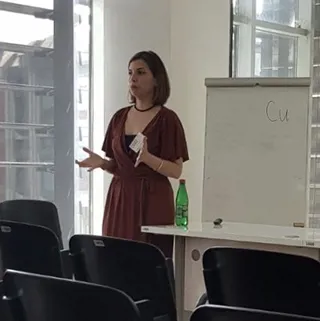 "Last but not least there's my engineering role. This is very interesting work as I'm consulting on the HS2 project, supporting the Head of Systems Integration with technical, engineering and scientific support."
This is Mikela's first job within the industry – until joining WSP in 2018 she'd spent her career in academia, working on post-doctorates at institutions including the University of Cambridge and Imperial College London.
"I'm a naturally curious person, but there came a point where I felt something was missing. I wanted to make more of a difference and go out of my comfort zone and so made the move over to industry," she says.
Deciding to apply for Professional Registration
Professional Registration first came to Mikela's attention while she was still in academia. A colleague from industry talked about his journey to becoming a Chartered Engineer (CEng), and she was keen to find out more.
"I was interested in finding out if this was something I could work towards myself," she enthuses. "I wanted to start a new trend, and to motivate other academics to join me."
When Mikela made the move from Greece to the UK, she took the opportunity to attend more IET events in person and went along to an IET registration workshop in London.
"I knew I wasn't prepared to apply for CEng at that point but I wanted to find out more. A Professional Registration Advisor (PRA) there advised me to take a couple more years to gain experience before considering application.
"I made the decision to also spend this time learning from others who'd walked this path and became more active within the IET. I got involved with the Aerospace Technical Network (TN), where I met other chartered engineers who explained how their work with the IET supported their Continuing Professional Development (CPD) and improved their career opportunities."
The IET's Registration Engagement Manager
When it was time to apply for CEng, Mikela's colleagues were there to support her. WSP offered its own in-house PRA support, while members of the Aerospace TN reviewed her application, and she was given guidance by several PRAs she had come to know well.
She also took the opportunity to gain support from the IET's Registration Engagement Manager (REM) Lucy Byrne, who's there to offer members support throughout their Professional Registration journey and beyond.
As REM, Lucy reaches out to members right at the start of the process, providing them with the necessary tools, and introducing them to people who could offer support.
"I didn't always know what steps to take or who I should be speaking to, but Lucy was there to help. She put everything in order for me, helping me understand what was next in the application process. We'd talk on a weekly basis, either via email and phone and she was always available to answer any questions – and also provide me with emotional support."
The benefits of becoming a Chartered Engineer
Mikela was promoted straight after gaining CEng, a direct correlation as she came to realise that many higher engineering positions require Professional Registration.
As well as benefitting her career, the accreditation has boosted her confidence and "inspired respect from others as well as giving me more of an opportunity to be heard," she enthuses. "My titles are my medals. The more I challenge mine and other's beliefs the more I improve, and the world improves along with me."
Not one to rest on her laurels, Mikela sees chartership as just the first step in her career. "It's a gateway, there's a whole beautiful world in front of you after CEng, one full of opportunities."
This is something REM Lucy strongly agrees with, and her work doesn't simply end once a member achieves their professional registration goal. The REM is there to offer continued professional development support post-registration.
Professional Registration is just the start of the journey…
Since gaining CEng, Mikela and Lucy have continued their close working relationship. Mikela is now working towards becoming an IET Fellow with Lucy's guidance, but she's also supported Mikela in one of her latest goals; to become a mentor.
"Through training, I've undertaken with the IET I've been able to create a business mentor role within WSP and this is something I'd like to do more of in the future. I've also become approved as an IET PRA, so I can support others on their Professional Registration journey," Mikela highlights.
"I'm proud to say the first person I supported as a PRA is also from academia, and just received his chartership," she adds proudly.
Why academics should become Professionally Registered
In the past, many have believed that Professional Registration is only for engineers in industry, but Mikela is keen to break that myth.

She's proof that CEng is attainable by academics and believes it has benefits whether they plan to move into industry or stay in the academic field.

"If you're considering joining industry then it's a great idea to get chartered because the UK-SPEC and the PRAs help you start to understand the mindset of people in industry," she explains. "But when it comes to people who want to remain in academia, chartership gives you a realistic view of the skills a hands-on engineer has to have and makes you think about different areas, such as ethics.

"The IET acts as a bridge between the worlds of academia and industry and academics can gain so much from engaging," she concludes.

<!—Lead forensics script -->