Start of main content
Dipendra Mistry
Published: Wed 2 Jun 2021
Dipendra's non-conventional route to Chartered Engineer (CEng) saw him gain Professional Registration just three years after graduation with a Bachelor's in Physics.
This shows it's possible to achieve in your early career if you have the right competence, that is, skills and knowledge.
Having spent several years in industry and having gained Chartered Engineer (CEng) status, Dipendra made the decision to pivot his career and is currently pursuing a PhD in physics at the University of Nottingham.
His engineering career began quite traditionally ­ ­– after completing a physics BSc with a focus on medical physics, he secured a place on a two-year engineering graduate scheme at Teledyne e2v. It was at this time that he also became a member of the IET.
At Teledyne e2v Dipendra specialised in RF devices and components, which are used in 90% of the world's radiotherapy machines, but he also had the opportunity to engage with a number of small projects across the business.
This enabled him to learn about space imaging sensors, model gravitational fields for ground surveying, create an interdepartmental newsletter and even write a paper for an international conference.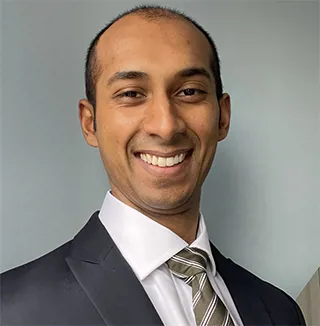 Broadening his knowledge and experience
After completing the scheme, Dipendra became a Development Engineer at the company, where he was responsible for the design, test, and characterisation of high-power RF systems, and his knowledge and experience grew as he supported multiple customers around the world.
"One experience led me to sunny California, where I got to work with a large manufacturer of radiotherapy machines to test a prototype device," he remembers fondly. 
It was during this time that Dipendra applied for and became CEng registered.
He'd began looking into Professional Registration when he completed his graduate scheme, unsurprisingly discovering that he didn't yet meet the criteria to apply for Chartered Engineer.
In response, he spent time mapping his experience to the UK-SPEC and created Continuing Professional Development (CPD) goals to help him gain the necessary experience. His line manager supported him with this, planning objectives that would enable him to gain the experience he needed to apply in his day-to-day job.
Applying for Chartered Engineer after just three years in industry
"A year passed as a I gathered my evidence and I recorded my CPD using the IET Career Manager platform, which helped me better assess the areas I needed to develop and focus on," he says.
"I was fortunate in that my industry experience was heavily project-focused and working in R&D I was able to leverage a lot of experience to meet the CEng competences.
"At this point I began working with colleagues and mentors who would review my application each week.
In each session, we worked through my experiences under employment history and how they met the UK-SPEC. The goal was to make all the evidence clear to the reviewers."
Once ready, Dipendra sent in his application and within a few months was invited to a professional review interview.
"This focused on my experience, application, and a short presentation on a few key projects. I was awarded CEng two months later."
Why work towards Professional Registration?
Dipendra chose to become Professionally Registered as he wanted to be the best engineer he could be.
To him this meant having his competence recognised by the wider engineering community.
"All too often when working in a company, our skills are valued internally but are difficult to demonstrate or transfer to other industries.
For me, Professional Registration was a great way to showcase my level of competence, and also to serve as a framework for me to develop a broader skillset early in my career.
"To this day my CEng certificate still hangs proudly on my wall as a reminder to continue to be the best engineer I can be.
Advice to others
"I took a very unconventional route to CEng, so I was unsure where I would fit amongst other candidates and initially this resulted in low self-esteem and a case of inertia," he continues.
"My advice to others taking a similar route would be to focus on your own journey and experience.
It's best to seek advice from the IET and your network early on as this will give you a better idea of how to progress.
Professional Registration is a worthwhile goal – one that's achievable for anyone willing to put the effort in."
Professional Registration – the benefits to employers
Since becoming Chartered, Dipendra has changed jobs twice and during interviews demonstrated his knowledge and skills through his attainment of Professional Registration.
"I was able to promote the advantages of being professionally registered to prospective employers – having been assessed by an independent panel of peers, my competence as an engineer has been recognised," he says. 
He first moved to start-up Hanwha Phasor as an RF Systems Engineer, where he worked on electronically-steered antenna for ground terminals to communicate with satellites in space.
"This was a fascinating experience," he says. "My learning curve was exponential – one of my favourite tasks was building and testing an anechoic chamber from scratch."
Within two years he was promoted to lead the company's system test team, and got his first taste of management.
Later he moved to another start-up, SatixFy, where as a Senior RF Engineer his remit was to grow the team and lead the complex antenna systems test strategy.
He then made the decision to take a career break, and self-published his first book entitled The Jobseekers Tookit ­­– Your Guide to Getting Hired.
It was during this time out that Dipendra made the decision to move into academia and pursue a PhD in physics, with a focus on optimising open MRI machines to improve image quality and reduce scan times.
"This has always been an inspiration of mine," he says. "In this position I'll be able to leverage my experience in RF engineering and apply it to the field of medical physics."
Future career goals
Dipendra continues to set himself new career goals and challenges. In the last year he joined the Institute of Physics and became a Chartered Physicist (CPhys), and on completion of his PhD he plans to commercialise his research into a product or company.

Alongside this he wants to work towards IET Fellowship, continue being an active member and volunteer – amongst other things he's a STEM ambassador, and grow his network.

If you'd like to be a part of Dipendra's engineering network and follow where his career takes him next, why not connect with him on LinkedIn.

<!—Lead forensics script -->