Start of main content
Getting started with Continuing Professional Development
This includes training courses, work experience, academic study, volunteering, attending events and self-study (TWAVES). Logging CPD is a simple process and we've broken it down into four easy stages: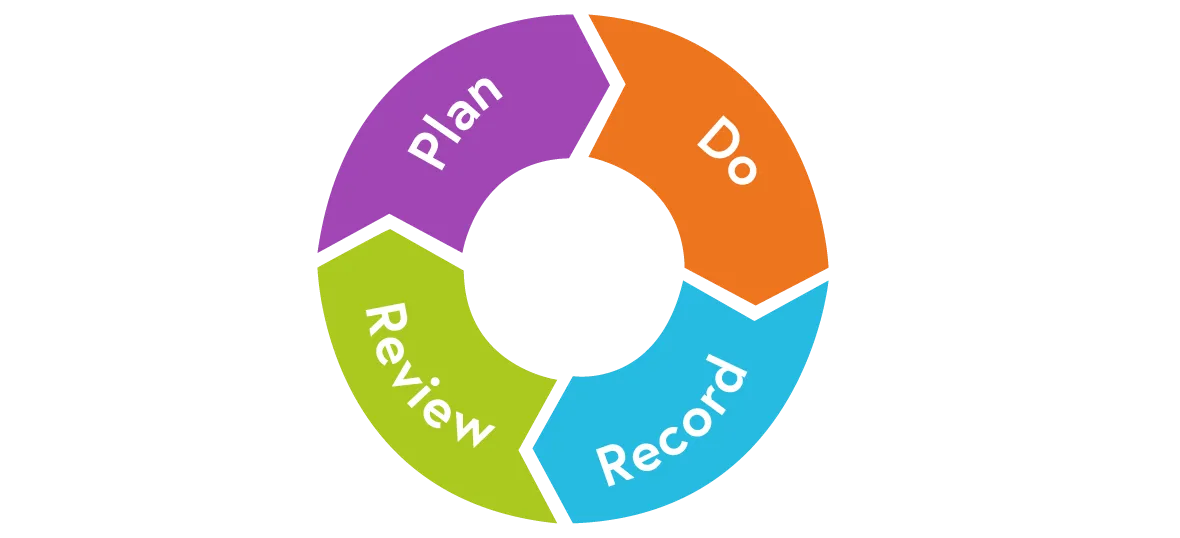 Planning
1. Once you've identified your short-term goals, think about what needs to happen for you to reach them. You may need to learn a new skill on a technical course, gain experience by job shadowing or taking on more responsibility by training others. You might want to use your last appraisal, your CV or your current job description for ideas – however, you do it, you should end up with a list of things to do. Not sure how to define your goals? An IET Mentor could help.
2. Then see what steps on your to-do list need to be done first, what resources you'll need (like books and courses) and who can help you. For ideas on what counts as CPD, check out our 'What is CPD?' web page.
3. Think about how you'll measure your achievements for each objective, and give yourself a realistic target date. It's also worth setting a review date (say in six to 12 months) and putting it in your diary too to give you something to work towards.
Doing
1. Get all the materials, financing and resources you need together and make time in your schedule for learning. Use Career Manager to make a note of how many CPD hours you do and the type of activity you choose for each goal.
2. If anyone is helping you (a manager, colleague or mentor), get them on board. Don't be afraid to ask for help, just be clear about what you need and keep them updated on your progress.
3. Find a way to learn that suits you. Some people like to understand the theory before trying something while others like to experiment and learn in a more hands-on way. The more you enjoy what you're doing, the more you'll learn.
Recording
1. After each activity, take some time to reflect on what you've learned and how it affected your approach by recording it in your logbook. Make a note of things you feel went well, any things that you could have done differently or better, and whether it met your needs or if there are other things you need to do to reach your goal.
2. Every month or so, you should look back at your log and think about how your new knowledge will affect your performance at work, how it will make you better at your job and what you might want to change based on what you've learned. It doesn't have to be a chore – a few lines or paragraphs is enough – and you can always ask your mentor or line manager for their thoughts too.
3. If you're using competencies, decide which competence each piece of your learning is linked to, record your new level and chart your progress. Collect evidence (such as references) as you go and upload them to your portfolio so you can easily find each one.
Reviewing
1. When you've reached the review date you set when you were planning, give yourself some time to go through everything you've achieved so far. Look at your logbook and tick off all the goals you've reached and think about the ones still on your to-do list. Take off any irrelevant ones and update any that need a refresh for the next few months ahead.

2. Start planning again! Move your medium-term goals to become part of your short-term plan for the next period, and check in with your longer-term objectives to make sure they're up to date. Don't forget that you can download your goals and activity reports and share them with your manager or mentor for feedback.

<!—Lead forensics script -->