Start of main content
Malaysia Young Professionals launch innovative hackathon
Published: Mon 11 Oct 2021
Ivan Ling MIET, Assistant Professor at the University of Southampton Malaysia, has been an IET volunteer for nearly 10 years and is the current Chair of the IET YPs Malaysia.
In 2019 he led his team to victory in the IET Global Challenge with PICAS Block, an environmentally friendly packaging solution for dried, loose food products.
"The IET Hack//Planet competition is heavily inspired by the IET Global Challenge. Its three themes – Wildlife Conservation, Green Planet, and Cleaner Seas – are the most pressing conservation issues in Malaysia and, by extension, the whole world. As Young Professionals, we wanted to raise awareness about them and seek innovative technology-based solutions." – Ivan Ling MIET, Assistant Professor at the University of Southampton Malaysia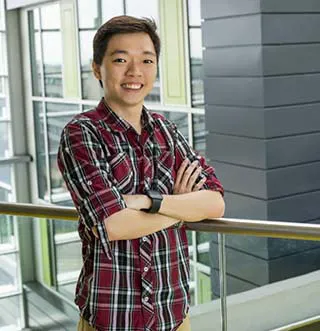 Technical know-how
The competition was open to all students, YPs and individual makers in Malaysia. Ivan and his team of six YPs promoted the competition online, assisted by a range of eye-catching posters, and received 42 entries from around Malaysia.
"Entrants had to use their technical know-how to tackle conservation issues in a simple yet effective way," said Ivan. "We were looking for creative, novel, feasible solutions that could be implemented and commercialised quickly, using readily available technology."
The IET Malaysia Local Network provided some great contacts that supported the competition. They included Cytron Technologies, which actively promotes STEM education locally, and government-linked body MAGIC, which promotes innovation locally.
A three-stage hackathon
The hackathon was divided into three stages:
Stage 1 – entrants submit an initial proposal
Stage 2 – the top 20 submit a five-minute 'proof of concept' video
Stage 3 – the top 10 create a working prototype
The first stage was judged by a panel comprising IET YPs and engineering professionals. The second and third stages were judged by representatives from supporting organisations, including the IET Malaysia Local Network.
The five winning ideas ranged from a Smart Bicycle Generator to an Automated Algae Removal Buoy made from plastic bottles. MAGIC is now helping the winners to accelerate their ideas from prototype to production, to help save the planet.
Talented engineers
"It has been extremely exciting to organise something on a national scale," said Ivan, "and to identify talented engineers who are passionate about the environment.

"Social distancing requirements meant that we had to limit the number of finalists to 10. However, once the pandemic is over, I hope this inaugural event leads to a far bigger hackathon and 'makerthon' in Malaysia."

<!—Lead forensics script -->