Start of main content
Inspiring innovation with Conor Chaplin BEng MSc MIET
Published: Fri 30 Jul 2021
"I already feel like I have a lot to be proud of in my early career," he says. "One project I led really sticks out for me from 2020 during the Covid-19 pandemic.
Using the existing CCTV on Greater Manchester's transport network, we ran video footage through an AI platform augmented by behavioural analytics to get a better understanding of social-distancing levels in transport interchanges.
This showed us where passengers were gathering or coming into close contact with each other and allowed us to target interventions, like one-way systems and positive reinforcement notices to improve social distancing.
"Something I've learned that I think is particularly important for those of us still in our early careers, is to keep asking questions," says Conor.
"By constantly asking questions, no matter how simple, to try and understand the perspective of different people, you get a much better idea of how everything fits together, which makes it much easier to solve problems and be an effective engineer."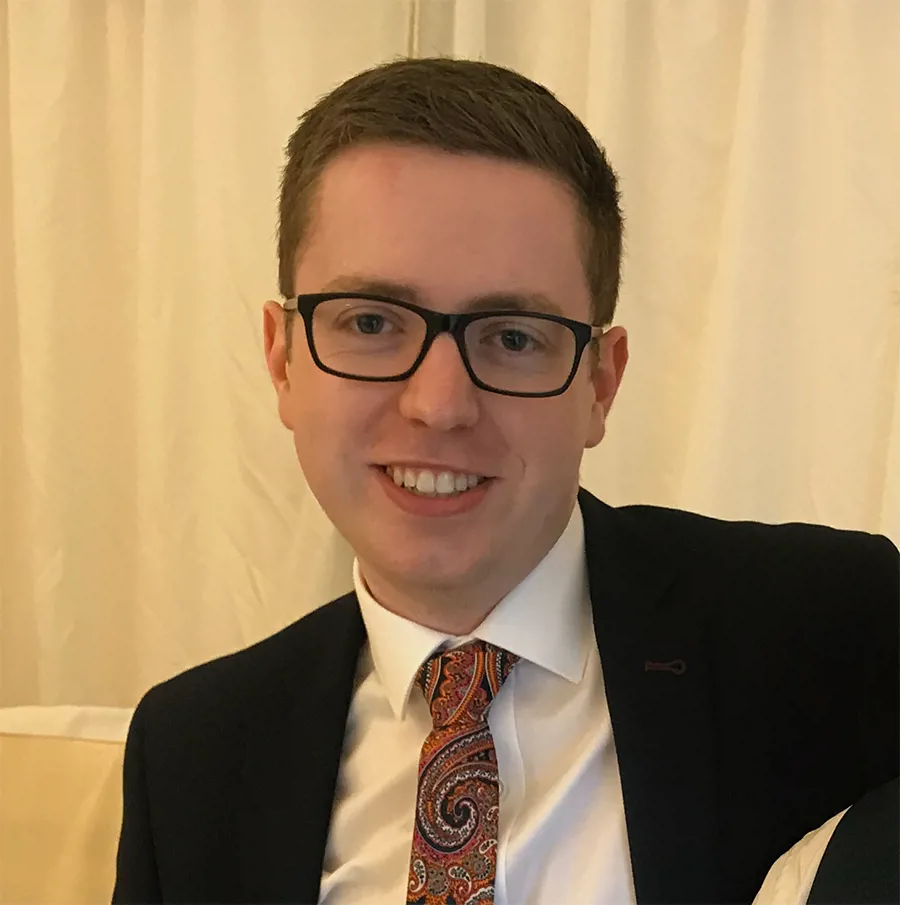 Interested in aircraft from a young age, Conor studied Aeronautical Engineering BEng (Hons) at Loughborough University before completing a post-grad Aerospace Engineering MSc at The University of Manchester.
"Growing up, I used to live near Heathrow Airport, so there were always aircraft flying overhead – my dad used to take me to watch the planes landing," says Conor. "I have family in Ireland so (before the pandemic) we've always flown there quite a lot since I was very young, so I think that's where it all started."
Conor's inquisitiveness was instrumental in his journey to becoming an engineer
"Having that curiosity about how things work is a really important part of being an engineer," he says. "The key to success for any engineering or technology project is all the pieces fitting together properly; I think it's important to take an interest in how different components interact, even if you're not directly involved with them.
"I actually used to get a bit nervous about flying, so I ended up learning as much as I could about the aircraft: all of the control, radio and navigation systems and how this worked with the systems on the ground. Since then, I've always been curious about how everything around me works. Whether it's communications, transport systems or the energy needed to run things."
From The University of Manchester's hypersonic wind tunnel for his post-grad dissertation to working for the Ministry of Defence (MoD)
As a graduate engineer, Conor joined a highly specialised body within the MoD, Defence Equipment and Support (DE&S), which is responsible for equipping the UK's military.
"My first role at DE&S was with the UK Military Flight Training System (UKMFTS) which delivers integrated flight training for all branches of the UK military, from cargo and fast-jet pilots through to observer and surveillance crew," he says. "I was primarily involved in system safety, which was a good introduction to large-scale engineering programmes with lots of different people and equipment."
Whilst at UKMFTS, Conor was responsible for identifying and analysing emerging hazards to flight operations and recommended actions to mitigate these. He was also instrumental when helping to implement a new system for hazard logging, making it easier to track trends across a variety of aircraft and systems.
"Being a graduate engineer in that environment was great in terms of the technical aspects, however I was also exposed to how important some of the non-technical aspects of engineering are," he says, "Working on soft skills like conflict resolution and open communication was imperative, as well as the importance of embedding safety and transparency as part of a healthy work culture."
Before stepping into his current role at TfGM in the Innovation Team as a researcher, Conor was seconded to transport giant Rolls-Royce, developing new design methodologies for future aircraft sub-systems and led CFD testing of these; skills he was able to bring to the forefront for the Innovation Team
"We primarily deal with researching and trialling new mobility technologies," says Conor. "We have a big portfolio of projects, including connected and autonomous vehicles, mobility-as-a-service, 5G communications and smart city/IoT technology, and artificial intelligence."
A big piece of work Conor's currently working on is developing TfGM's innovation strategy, which includes building a roadmap for developing and deploying new modes and technologies that will help meet targets for 50% of all trips in the region to be made by sustainable modes and reaching carbon-neutrality by 2040.
"Recently I've been working on some projects using artificial intelligence (AI) and machine learning to improve our services," he says. "We've deployed a number of smart cameras on traffic signals which use AI to improve signalling efficiency compared to existing systems. This is helping to reduce congestion and journey times and, as a result, reduce pollution."
One of the biggest challenges, Conor finds, is introducing or integrating new systems or processes into 'business as usual' activities.
"It can be particularly challenging when there is resistance to changing how things 'have always been done'," he says. "This is why it's so important for engineers to not only be technically competent, but also well-rounded individuals who know how to form effective working relationships."
More than just a member
"Being an IET member has definitely broadened my horizons in terms of understanding how different engineering professions and specialities fit together," says Conor. "In the last year, I've attended countless webinars hosted by the IET and local networks which has really opened my eyes to how much the community have achieved recently even given the challenges of the pandemic.

"Apart from the technical side of things, issues around equality, diversity and inclusion are very important to me and I am really pleased to see that the IET is taking a leading role in promoting these values across engineering. In particular, the #IAmAnEngineer campaign to show the need for greater equality and diversity across engineering and technology was really encouraging, as is the IET's regular support for Pride and LGBT STEM Day.

"My main goal now is to be professionally registered with the IET as a Chartered Engineer. I've started working on my application using Career Manager to log all of my CPD and track competencies against UK-SPEC, so most of my focus at the moment is filling in the gaps that remain."

<!—Lead forensics script -->