David Gillespie CEng MIET
"I saw the postnominals on his business card," David says. "I ended up going online and finding the IET. Shortly after, I became a member; it helped me feel like I belonged in engineering."
Getting into engineering also seemed like a simple decision for David: "After taking apart a toy hovercraft (and breaking it) as a child, I thought, 'I should probably learn how to fix this'," he says.
The programming and hardware of computers also sparked his interest, influencing the decision to turn his love of coding into a career.
"I was just always fascinated with how things work and how you could put them together differently to make them do different things."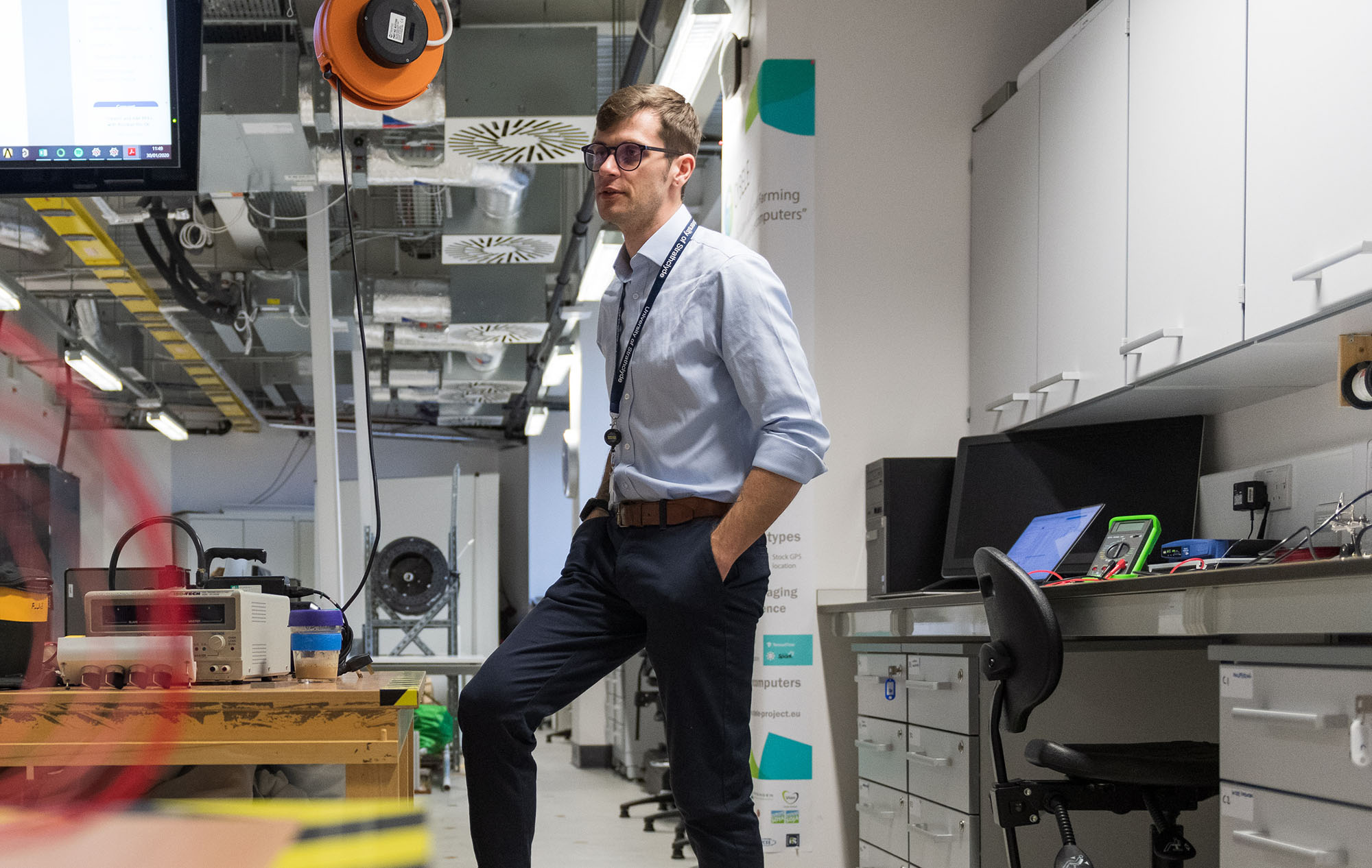 Rising through the ranks
Currently an Applied Research Specialist at Collins Aerospace, David's first role was in the Armed Forces at the age of 15, where he was an apprentice aircraft technician. "Honestly my first role wasn't challenging to apply for and be accepted into," he says. "It was challenging staying on the course!" Although the Army opened a lot of doors for David and gave him the chance to learn a new trade, after five years he left the Army to return to education; first studying a National Certificate in IT to achieving a place on Paisley University's software engineering course.
"I now work in research and development, so my role is constantly changing depending on the projects, which in itself is challenging," he says. "The need to keep up to date with technology can also take up a lot of your day, as we need to keep at the forefront of innovation."
However, working with the latest tech and adapting to technological advances in industry isn't new to David: "I am lucky to have the option to investigate new technologies all the time," he says. "I get to play with augmented reality, bioluminescent paints, machine-learning technology, and every non-destructive testing equipment that you can think of."
From apprentice technician to professionally registered Industrial Doctorate Candidate
With solid academic qualifications behind him, David began his Professional Registration journey with help from us in 2016. This pushed David to further his Professional Development and develop his skills and experience to achieve internationally recognised qualifications. Now an Industrial Doctorate Candidate for the University of Strathclyde, his next goal is achieving Fellowship status. "What better way to demonstrate that you are developing than through gaining Professional Registration?" he says.
From help from our mentors to our courses to conferences to leading publications, our thriving community has everything David needs to build on his competences and keep a competitive advantage to advance to the next level.
More than a member
"Being a member has helped me set goals with achieving Professional Registration, but I've gained most from the experience of the journey itself," he says. "It's led to me successfully progressing in my career."
So, what's next for David apart from working towards Fellowship status? "I've always just sort of followed my interests, I couldn't pigeonhole myself in any engineering function as I've done everything from mechanical, electrical, software and electronics.
"I'm still not sure what I want to be when I grow up; I think I'd like to do something with satellites next…" And we'll be here support David with whatever path he decides on.
Find out more here about all the things we can offer to support our members – people like you – to achieve the greatest things.