Start of main content
Dr Ozak Esu BEng CEng MIET
Moving to the UK from Nigeria back in 2008 to study electronic and electrical engineering at Loughborough University, Ozak joined the IET to make a difference and kickstart her Professional Development.
Taking inspiration from home
"When I was at school, I was good at mathematics and physics. My parents and tutors at the time told me that these were the subjects required to pursue a career in engineering; so that's what I did.
"Growing up in Nigeria, I'd experienced shortages in energy and power supply; this inspired me to specialise in electronic and electrical engineering so that I could make a difference and contribute to fixing the problem.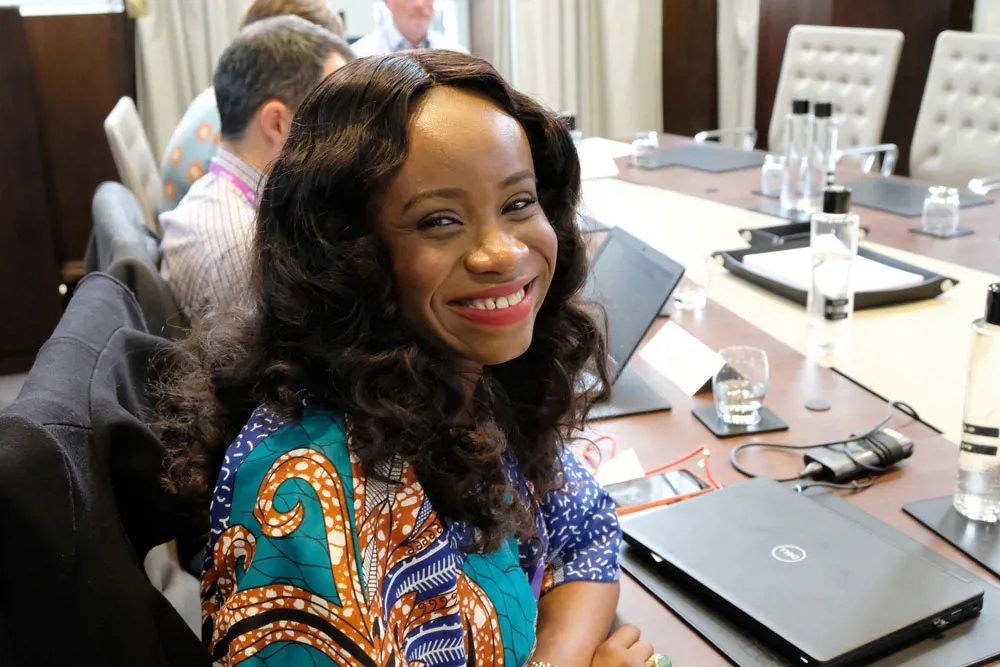 "In my household, we went from lighting candles with matchsticks to do our homework, to using kerosene lanterns, then rechargeable lamps. Eventually, my parents earned enough for us to own our private diesel generator. I witnessed the pollution caused by households and businesses who owned a private generator. There was also the fluctuating costs and scarcity of fuel, marked by long queues at petrol stations. I always had this belief that this wasn't the case in other countries and that I could do something to fix it. Studying electronic and electrical engineering and gaining professional experience seemed like the next logical steps."
After being awarded a scholarship to study for a PhD in Wind Energy and Advanced Signal Processing, as well as committing hundreds of hours to a variety of volunteering activities as part of our thriving community of young professionals, Ozak took advantage of her access to our leading publications and journals to help with her PhD research.
The first career move
"In my first job as a Graduate Engineer, it was significantly challenging and psychologically draining actually finding the role in the first place, but this wasn't due to a lack of opportunities.
"There was an endless amount of vacancies advertised on E&T Jobs and several other graduate recruitment websites. However, I was an international student and required a work permit and visa sponsorship. Most of the engineering companies I was interested in joining, although listed by the UK Border Agency (UKBA) as registered visa sponsors, were unwilling to sponsor international students. It also did not help matters that I was on the verge of completing a PhD without any prior industry experience!
"Following a long trail of rejected and unsuccessful applications (close to a hundred to be specific), I was given an opportunity by Cundall to demonstrate my competence at an assessment day, which I passed, and I was offered a Graduate Engineer position and visa sponsorship, which I accepted."
After four years at Cundall, Ozak joined BRE as the Smart Buildings Technical Lead, leading the creation and development of physical smart building demonstrator projects on the BRE estate and in collaboration with external partner demonstrators.
Leading as an industry innovator

Working with cutting-edge innovations in Internet-of-Things (IoTs) sensor technology, in her current role Ozak leads her team and strives to push the boundaries to solve the challenges that matter to all of us.
"On the BRE estate, we have physical smart homes and buildings demonstrator projects which we use for experimenting and testing. Depending on the phase of the project, my time is spent either designing or supervising the installation of new IoT sensors and smart technology systems or assessing and analysing measured data and deducing results for publication or use towards developing industry standards.
"I also work with Building Information Modelling (BIM) and data visualisation software, as part of ongoing work to develop digital twins of assets."
Yet pushing the boundaries doesn't always mean it's smooth sailing…
"Predicting the future and keeping pace with technological advancements (the benefits and risks) is a challenging and thrilling aspect of my role.
"There is also a lot of work being undertaken in silos by organisations within the smart buildings and construction industry, which needs to be aggregated to deliver transformation within the sector. Rallying these groups together can be a challenge.
"Our industry lacks diversity (age, gender and race) and pay transparency. The resulting personal challenges are perfectionism, rumination, alienation and underearning, to list a few."
Engineering an opportunity for change
"I am passionate about knowledge sharing. I strongly believe I can contribute towards improving the skills and diversity of talent entering the industry.
"When I worked on a workplace fit-out project in Lagos, Nigeria for Heritage Place, I supervised witness testing and commissioning of electrical services. I also developed comprehensive site reports detailing all identified snags, and unfinished work, actioned to the local contractor.
"Heritage Place is the first Leadership in Energy and Environmental Design (LEED) certified building in Nigeria and we were appointed to deliver a category B fitout design for the 2,000sqm eighth floor office space. We ran rests for UPS battery autonomy, hot swap continuity, polarity, insulation, RCD, loop impedance and fault current, emergency lighting and fire alarm systems testing.
"It was a unique and very interesting experience; I got a sneak preview of what to expect when I return to work in the engineering and construction sector. I look forward to doing more projects at home." 
More than just a member
"My IET membership has helped me build my engineering career, achieve Professional Registration as a Chartered Engineer, expand my network, develop interpersonal skills and share my technical knowledge through volunteering opportunities. Through my input and feedback via the IET, to Government Consultations, I have been able to inform policies.

"Membership has afforded me opportunities to be inspired, such as the Achievement Awards (A F Harvey Engineering Prize), as well as opportunities to inspire others such as the IET Young Woman Engineer of the Year Award, which I won in 2017.

"Most recently, I received an IET Travel Award grant which supported my participation in an international development project in Malawi, called STEM Build Malawi."

With her dedication to staying ahead of the game for her lifelong career goals, Ozak continues to set the standards for the next generation of engineers.

Find out more here about all the things we can offer to support our members – people like you – to achieve the greatest things.

 

 

<!—Lead forensics script -->