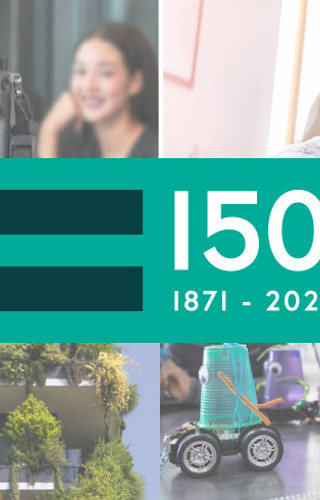 IET 150th Anniversary - 1871 - 2021
In May 2021 we'll reach our 150th anniversary, and we want you to join in the celebrations!
Engineering and technology are more important now than ever. Our industry and its people continue to solve many of the world's greatest challenges, and we're using our anniversary year to share these people and their stories with the world.
We've got plenty of exciting things planned, so stay tuned for updates, and check out our activity timeline.
Get a sneak preview
What's happening?
We've planned a range of fun and creative activities for the year, running from October 2020 where we welcome incoming IET President Professor Danielle George (pictured), through to the end of 2021. 
From inspirational talks and competitions to awards and unlikely partnerships – we're taking STEM (science, technology, engineering and maths) 'outside the bubble', sharing the possibilities it can offer with wider society and changing the narrative on what being an engineer really means.
Find out more
Join our #DifferenceMakers
We're creating a movement, and we want you to be a part of it.
We're going to tell stories of #DifferenceMakers and how they're engineering a more sustainable world.
And what is a #DifferenceMaker? They're inventors, leaders, thinkers, makers, creators and doers, and we're going to share their stories globally to inspire others.
Help us find inspirational stories in your area, and find out more about the wider campaign.
Get involved
"We're working on some incredible stuff"
IET President for 2020-2021, Professor Danielle George, summarises what our anniversary year will be all about – and why you should be excited and get involved!